Have you recently been terminated? You might have the right to severance pay!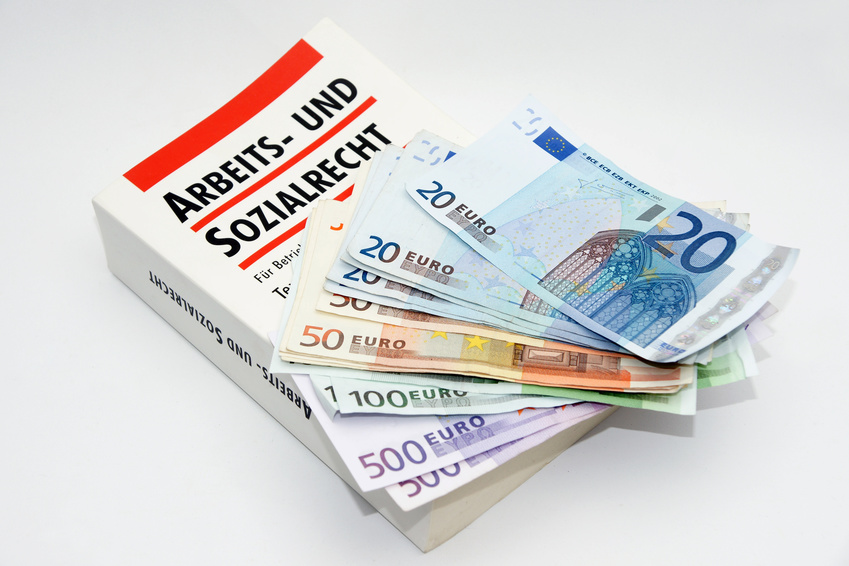 Terminations in Germany are often unlawful - and employees being let go can be eligible for severance. Read our guide below to find out if you qualify and how you can take steps directly online to get your severance.
Legitimate reasons for terminations
Employees who have worked in a company with more than 10 employees for more than 6 months can only be terminated for certain causes. The German Protection against Dismissal Act (German: Kündigungsschutzgesetz, short KSchG) lists 3 reasons which may legitimate terminations by employers:
Person-related
Conduct-related
Operation-related
Most common examples

illness
loss of a work permit
loss of a professional license such as the driving license
lack of sufficient language skills
serving a longer prison sentence

not showing up at work
frequently arriving late at work
working too slowly or faultily
assaulting superiors, colleagues, or customers
stealing things from work

closures or outsourcing of departments and branches
operations being shut down (for example because of insolvency)
restructuring of the company
You should challenge your termination!
Employers often use their powerful position and pretend that a lawful cause exists to terminate an employment contract. Since Germany is a state under the rule of law, every employee is entitled to a lawful termination. To protect employees from employers' abuse of power, every employee has the right to challenge their dismissal (§ 1 KSchG). So, if you believe you have been treated unfairly, it is your right to contest your termination. It is important to note at this point that challenging terminations is common practice in Germany and you will not need to fear any repercussions from doing so.
Severance pay is often the best solution!
Returning to your old job is usually not an option when you challenge your termination. It can result in a stressful working atmosphere or you no longer want to work for this employer. Nevertheless, you can still receive a one-off compensation for the loss of your job, called severance pay. As most people cannot find an immediate replacement for their job, severance pay helps bridging the gap between old and new job financially. Although there is no legal entitlement for you to receive severance pay, your employer will be keen on offering you one. Employers generally want to avoid any risk of the notice being called ineffective because it would mean they would have to continue employing the employee and would have to pay his/her salary retrospectively. Employers have however no interest in doing so because they tried terminating the employee in the first place. So, they most often let themselves in on the payment of a compensation. You can get your termination reviewed online and for free by the legal experts of mehrabfindung.de. To find out how much severance pay you could receive, use our calculator.
You need to react fast to claim your severance pay!
Terminations can only be challenged within 3 weeks of receipt of the notice of termination and requires a submission to the labor court. Without its timely submission the termination is held lawful afterwards regardless of its original legitimacy. In effect, the employer would not face the risk of continuing the employment and hence would not be willing to pay you severance. It is important to note again that you have every right of filing a complaint and it does not impact your chances of getting future employment. There is also no hidden risk as the negotiation will take place privately and without any publicly accessible records.
Getting your severance pay has never been easier!
With the experience of mehrabfindung.de you can now support your claims conveniently and efficiently from the comfort of your home. All you need to do is ...
answer some questions
upload your employment contract
upload your notice of termination.
The experienced lawyers at mehrabfindung.de will look into your case and challenge it on behalf of you.
Do you have further questions? Get in touch with us!
Monday to Friday, 9am - 6pm
+49 30 28443300
Additional information on terminations
Termination for person-related reasons
A person-related notice of termination is possible if you are no longer able to fulfil the employment contract in the future due to your individual characteristics and abilities. The termination is effective only if it is certain that your personal incapability will significantly impair the business or economic interests of the company and if there is no other possibility of employment for you within the company. In contrast to a conduct-related termination, a warning notice prior to the termination is in general not necessary. Important to know: the employer is not allowed to use the termination as a punishment for illness related absences in the past, but must be able to proof, that your health will not allow you in the future to fulfill your contractual obligations. If you suspect that in your case no legitimate reason for a person-related termination is given, see what you should do.
Additional requirements for health-related terminations
Before terminating a contract for health reasons the employer is obligated to take measures for rehabilitation (called "betriebliches Eingliederungsmanagement", § 84 SGB IX). The employer is also bound to examine possible actions to save the employee's job such as treatments at a health resort, swapping positions with another employee that is more suitable for his or her health situation, taking off pressure or certain responsibilities.
Termination for conduct-related reasons
A termination for conduct-related reasons can be issued by your employer if you have violated your legal obligations in a significant and unlawful way and the employer can therefore no longer be expected to continue the employment relationship. The termination is effective only if there are no milder means than a termination. A milder remedy is a warning notice. A termination without a warning notice is legal only in exceptional and severe cases, like theft or expense fraud. Though in most cases the employer is obligated to issue a warning letter first which must describe the unlawful conduct in detail und make clear that you must expect to be terminated if you repeat your blamed behavior. If you suspect that in your case no legitimate reason for a conduct-related termination is given, see what you should do.
Termination for operation-related reasons
Your contract can also be terminated in a legally permissible manner if the employer is unable to continue the employment due to urgent operational requirements that result in the loss of certain jobs. There must be no other possibility of continuing to employ you at another workplace. When selecting the terminated employee, the employer must consider your social circumstances, for example the length of your employment, your age, whether you have dependent children or are severely disabled. If you suspect that in your case no legitimate reason for a operations-related termination is given, see what you should do.